Check Your WalmartOne Online Schedule.
Learn how to check your weekly schedules online from within the WalmartOne website, and how view availability exceptions.
How can Walmart Associates view their schedules online?
It is very straight-forward to view your schedule via the Walmartone.com website. The 'View Schedule' function is the most used function on the WalmartOne portal.
Step 1: Navigate to WalmartOne.com and click on 'Sign-in'.
Step 2: Sign in to your account with your login credentials.
Step 3:
Click on the 'Schedule' button. On mobile phones and thought the app, it will be located just under the WalmartOne logo. On laptops and desktops, click on the 'Calender' icon at the top of the screen or click on 'Today's Schedule' on the right hand side.
Step 4:
You have 3 'View Schedules' options to choose from: Today, Weekly and Availability. Choose one. Once you have accessed your full weekly schedule, you can scroll backwards and forwards between diffrent weeks and months. Meal times will be indicated on each day on the calender. Hours per days is shown by a number on the right side of the screen for each day. The total weekly hours are shown at the top right hand side of the screen.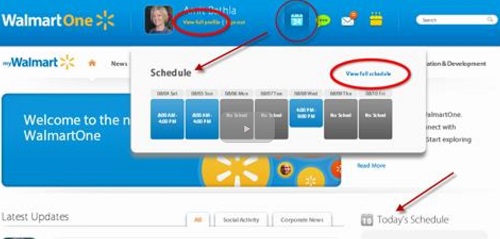 How do I viw Availability Exceptions on WalmartOne.com?
To check the days, where you have an Availability Exception, please log in to the WalmartOne website and navigate to your Schedule.
Click on weekly or monthly schedule.
Any 'Availability Exceptions' are marked using the orange color code on the calender.
For support, or to make changes to your schedule or shifts, click on the support link at the bottom of the screen.