WalmartOne Login Help.
The WalmartOne Associate website is Walmart's primary online hub for all employees, new and old. The portal lets all employees, or 'associates', view their weekly schedules, paystubs, tax forms, benefits, and also allows users to change their contact information.
Concurrently, the platform is the easiest way to request for time off, holidays, and to apply for jobs openings within the company.
The Walmartone, intra-store Walmart Wire, and the UK ASDA Walmartone websites were merged in 2019, and re-launched as Walmart Onewire, found at One.Walmart.com. This now means that all associates, regardless of country location, can log in to the WalmartOne Wire, at the same Walmartone.com website.
For more on accessing your schedule, visit Walmart Schedule.
To access your paystub, see the Walmart Paystubs page.
To login to OneWalmart (Walmart OneWire), visit our OneWalmart help page.
As the Walmart1 portal has grown, its success has also meant an increased complexity, and so, this guide aims to answer the pressing questions that new and older employees have relating to the platform. This includes up-to-date information on how to handle login problems, the WM1 app, PTO (Paid Time Off), Human Resources contacts and phone numbers, and much more.
Common WalmartOne Login Problems.
Locating the correct login page.
The first problem that new employees face is simply to locate the correct WalmartOne login page. If you are logging in from a PC or laptop, then the answer was always to navigate to www.walmartone.com website and click on the blue 'Sign In' button on the top right hand side of the page.
However, Walmart has recently transferred their employee portal to a new website located at the https://one.walmart.com address. See our section on "One.Walmart.com" below.
The old WalmartOne login page is still live at this address https://authn.walmartone.com/login.aspx, however.
Once on the WalmartOne login page, enter your login credentials, User Id and Password and click on the yellow 'Login' tab.
The login page should look like this: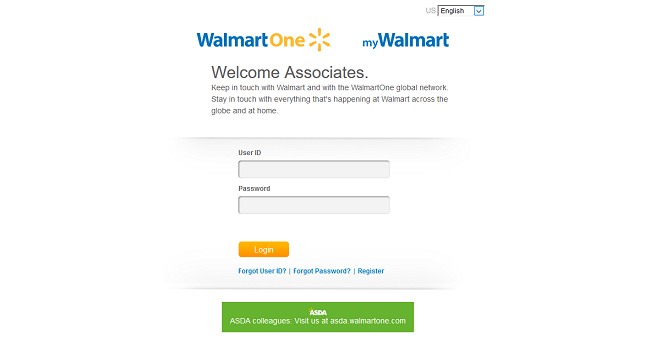 UK visitors (ASDA employees) will need to login from the ASDA WalmartOne login page.
Other confusion arrises from the fact that Walmart operates several associates websites, including:
www.walmartone.com
www.walmartbenefits.com
www.mywalmart.com
One.Walmart.com (New).
You can also choose to login to the associate portal by entering your User Id and Password at www.mywalmart.com.
One.Walmart.com.
Recently, Walmart has merged their WalmartOne and Walmart Wire platforms, and moved everything to the new One.Walmart.com domain. This new, combined portal was first named "Walmart OneWire", but was later renamed as "OneWalmart". 
The move has caused some confusion among associates, as the " if it ain't broke, don't fix it" adage may apply here.
Nonetheless, Walmart has pressed ahead, and though you can still access WalmartOne through the old login link, Walmart now prefers that you to access through One.Walmart.com instead.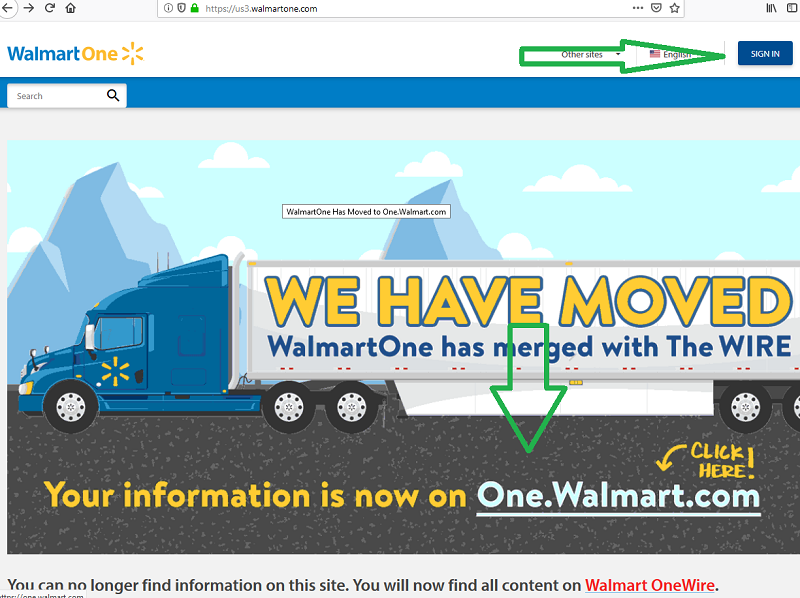 One.Walmart.com Login.
How to log in to the new One.Walmart.com, or Walmart OneWire, website:
First, you will need have the 2-Step-Verification set up from inside a Walmart Store.
Then, open One.Walmart.com in your browser, without "www". Typing www.one.walmart.com will not work.
Click on the orange Walmart logo in the top left corner of the screen. A new login page will open.
Enter your Walmart User ID and Password.
Choose country and location.
Click on Sign In.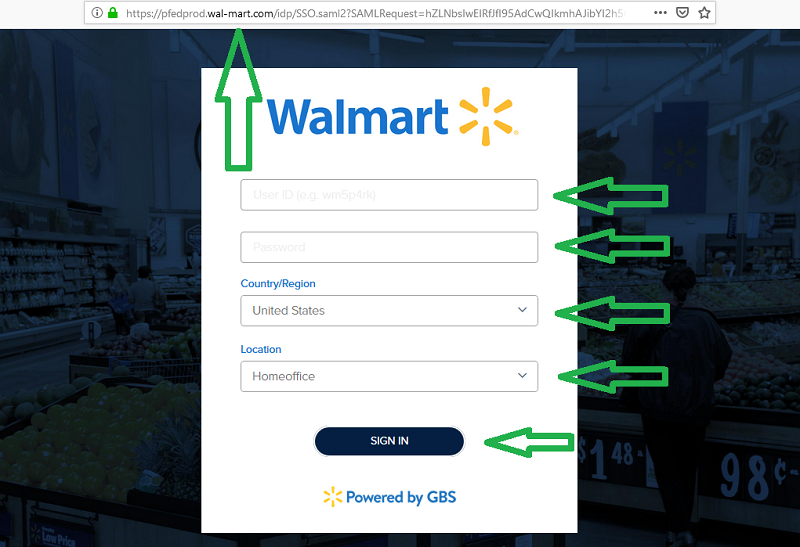 WalmartOne Registration.
New associates at Walmart sometimes try to login to the WalmartOne website withour realizing that they have to register first. You cannot login with just your WIN (Walmart Identification Number), which is given to you when you are hired. First, you must register and for this you need to go this process:
Visit the WalmartOne.com login page.
Click on 'Register' below the yellow 'Login Tab'.
On the next page, select your preferred language and click on 'Go'.
Enter your Walmart Identification Number (WIN), your birthday, the date that you were hired, and enter the CAPCHA code check.
Follow the instructions on the screen.
If you do not know your WIN number, then ask either your supervisor or visit the Walmart Wire website in-store.
You will not be able to register for a WalmartOne account, now Walmart OneWire, until your information is in all HR systems. This takes a few business days, but might be after you receive your first Walmart paycheck. If you are a re-hire, you will need to register for Walmartone again, as former associate accounts are closed.
One.Walmart.com Registration.
To access the new One.Walmart.com website, or Walmart OneWire, you have to follow a 2-Step Verification process. You have to be at a physical Walmart location to sign up for 2-Step-Verification. You cannot sign up for the 2-Step-Verification from home.
Walmart Wire Login.

Please, be aware that you were never able to log in to the Walmart Wire employee portal from home. This is because, for security reasons, the Walmart Wire can only be accessed in-store, and it operates separately from the WalmartOne portal found at www.walmartone.com.
Walmartone.com is used mostly for reading up on policies, schedules or interacting with other associates, whereas the Walmart Wire platform includes all self service Human Relations options.
However, with the new One.Walmart.com, or Walmart OneWire, portal, Walmart have merged the 2 Walmartone and Walmart Wire platforms.
Forgotten WalmartOne Password or User Id.
Do not worry, resetting your WalmartOne password is easy.
Visit the sign in page at www.walmartone.com and click on the 'Forgot Password?' underneath the login button and you will be taken to the password recover page on a seperate www.walmartbenefits.com webpage.
Once there, enter your User Id and enter the CAPCHA code, taking note of upper and lower case letters. Your password will be either emailed to your email address on file or shown to you after answering your security questions.
To recover your User Id, click on 'Forgot User Id?', and enter your email address and the User Id will be emailed to you.
If you still cannot log in or you do not know the answer to your security questions, you can call the WalmartOne 1-800 support number on 1-800-421-1362, or if you cannot remember your username and password at all, contact Field Support at 1-479-273-4357.
The WalmartOne App.
The WalmartOne app is also called the 'WM1 App'. This is the name you need to search for in Apple's iTunes shop and the Android Goolge Play shop in order to find and download it.
The WalmartOne app lets associates log in to the Walmart One portal on-the-go from their mobile devices.
The Android version requires Android 4.0 and up.
The iTunes version requires iOS 7.0 or later, and can be used for iPhones, iPads and iPod iTouch.
Note: The iTunes version has not been updated since 2015 and as a result has a series of bugs.
Downloading the WM1 App and logging in.
Locate the WM1 app on your app store and press install.
Then, open the app on your mobile or tablet.
Register and create a Walmartone User Id and Password, if you have not already registered an account.
Click on the 'Register' link under the 'LOG IN' tab and register with your Walmart Identification Number (WIN), birth date and year, date or hiring, and email address.
If you already have registered and have your login credentials ready, then simply enter the username and password on the login screen.
The Walmart One App login screen will look like this: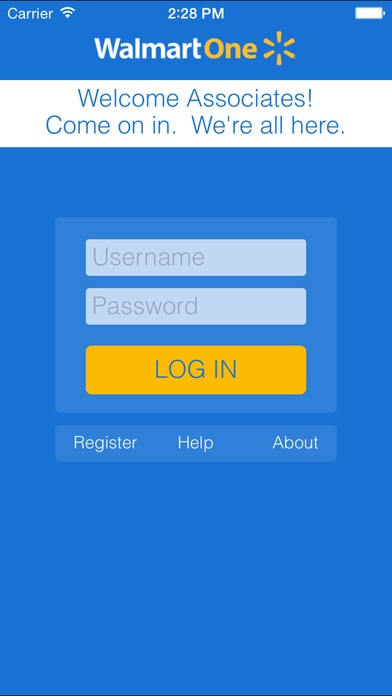 A look inside the functions panel of the WM1 App: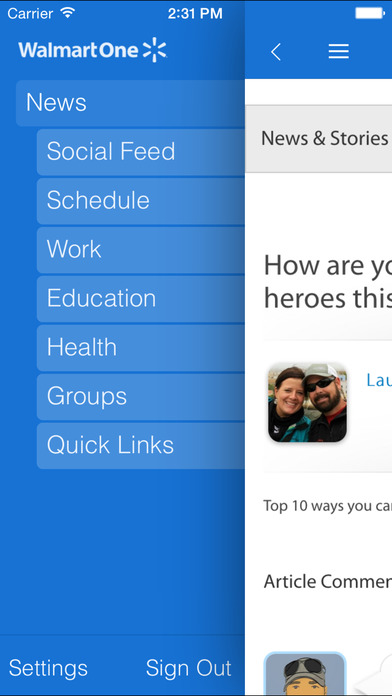 WalmartOne Support.
WalmartOne support can be found via email at: [email protected]
Or, by calling 1-800-421-1362.
Note: Your PTO balance can no longer be viewed on WalmartOne. You will have to log in to the GTA module on Walmart Wire, to see your PTO balance.
You can also add a comment or question in the comment section on these pages.