Money Network Walmart Paystub Portal.
Check your Walmart paystubs online, by accessing the Money Network Walmart Pay Stub Portal.
Login and check your Walmart paystubs/paychecks online, from your mobile phone or from your home computer.
Note: To access the Money Network Walmart Prepaid Card, go to www.walmart.everywherepaycard.com.
Walmart Paystub Portal Login.
You can easily view your Walmart paystubs even when Walmartone is down or you have ne terminated as a Walmart Associate.
You can also choose have your paystub emailed or texted to you automatically as soon as it is available.
Walmart has developed an easy to use Paystub Portal to allows both current and former employees to access their paystub/payroll information,
To find it, navigate directly to the Walmart Paystub Login page at www.paystubportal.com/FdcPsp/login.jsp
Note: The Walmart Money Network website could usually be found at www.moneynetwork.com, but this page has been terminated, and you will now need to go to www.paystubportal.com or www.exceedcard.com instead.
Terminated Walmart Associates Paystub Instructions.
Visit www.exceedcard.com.
Choose:
Login to Paystub Portal

Register Now
Or, go directly towww.PaystubPortal.com
Then, once on the login page, enter your information:
Birth Date (MMDDYY)

Your WIN Number (If you don't know your WIN, select "Don't know WIN?" at the bottom of the page and enter the Hire Date instead of the WIN).

4 digit department number

Click on Submit

Enter your Postal Code (ZIP code of home address while you were employed by Walmart.)

Click on Submit

Create a 4-digit PIN number. This PIN number must be numerical – no special characters are allowed.

Confirm PIN

Click on Submit

Choose Sign-In Now and re-enter the log-in information in order to check your previous paystubs.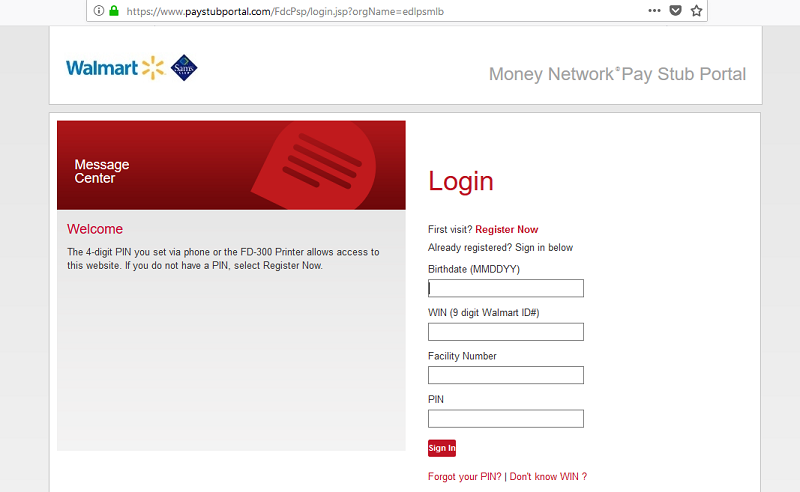 The Walmart Paystub Portal shows both the upcoming check (if you are a current employee) and previous checks, just later than the paystubs that you can access via WalmartOne.com. The Paystub Portal updates on the Monday before your paycheck.
 Current employees can also view their paystubs on the WalmartOne platform and with the WM1 app.
Walmart Paystub Portal Registration.
You will need to register an account first to use the Walmart Paystub Portal.
To register, you will have to provide the following information:
Birthdate (MMDDYY)
WIN (9 digit Walmart ID#)
Facility Number
If you have problems, then please state your issue below.