Walmart's Employee Discount.
How Much Is the Walmart Employee Discount and How does it Work?
If you are thinking of starting a career in a retail company like Walmart, a question you might have is: How much is the Walmart employee discount and how does it actually work? See the answrs here.
How does the Walmart Employee Discount work?
After 90 days of working continuously with Walmart, you will receive your Walmart Associate Discount Card in the mail.
With this card, you get 10% discount on general merchandise and fresh produce that are regularly priced.  This feature is valid at all Walmart stores in the United States.  If you choose to shop online at Walmart.com, you also get a 10% discount, but only on marked merchandise.
Walmart also offers an exclusive 25% discount to employees who work through Thanksgiving and Black Friday for purchases made between Thanksgiving and Christmas.
Who Can Use Your Walmart Associate Discount Card?
A Walmart Associate Discount Card is issued to you and your spouse.  Your dependent can borrow your discount card for their purchases. An eligible dependent is an unmarried child up to 22 years old but is a full-time college student.
You and your spouse's discounts cards are valid for the duration of your employment with Walmart.  If you earn a tenure of more than 20 years, you get a lifetime discount card.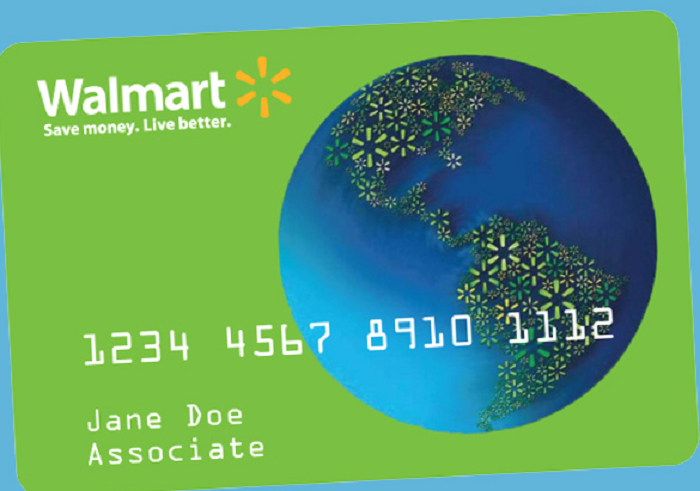 Items and Services Not Covered by the Discount Card.
At the store, the 10% discount applies to all general merchandise except those that are identified to be on sale, on clearance or have marked-down prices. Some high-ticket merchandise like gadgets might not be available for the 10% discount benefit.
Only fresh produce is included in the employee discount program.  Most grocery items are not covered. Other specific purchases that are not covered by the Walmart Associate Discount Card are eye exams in vision centers and fuel.
Online, at Walmart.com, the 10% discount can NOT be used on clearance items, marketplace items, on-line gift cards, digital downloads, and shipping charges.
How to Enjoy the Perks of the Walmart Associate Discount Card.
The 10% discount may not seem much, but if you apply it to your daily needs, the discount can go a long way to cover even little luxuries like cosmetics or ingredients for a special dinner.  Use the card for personal purchases only.
Make sure that you only let your eligible dependents use your Walmart Associate Discount Card apart from yourself.  Notify Walmart immediately in case of lost or stolen cards, as well as canceling cards of ex-spouses.
Walmart claims to be the largest retailer in the world with more than 2 million associates in its employ.  If you  commit to work for the company, the major employee benefit is the opportunity to build your career within the retail industry.
The Walmart Associate Discount Card is only a part of its bigger financial benefits package. Totaled up, the discounted purchases and benefits can go a long way into helping make lives better for long-term Walmart employee.
Walmart Employee Discount References:
If you want to read more about the Walmart Associate discount and benefits, then please refer to:
www.walmart.com/cservice/discountrules.gsp
Walmart Employee Discount Login
Corporate.walmart.com/our-story