Walmart Onewire Login – One.Walmart.com.
Walmart Onewire login for associate work schedules, paystubs, PTO and benefits.
Learn how to access the One.Walmart.com and the www.WalmartOne.com associate login pages, and how to fix any problem, if you are unable to sign in to your account.
OneWalmart or Onewire Walmart.
For Walmart associates, WalmartOne (also referred to as WM1,Walmart Wire and Onewire Walmart) serves as the official online employee portal, offering a range of different self-help options and personal development tools, along with more general information. For example, employees can use the service to view their paystubs, employee benefits and Walmart schedule.
The "WalmartOne" brandname was being phased out to accomodate the switch to "Walmart OneWire". However, as the Onewire name turned out to be already trademarked, Walmart again switched to the new, permanent "OneWalmart" brandname.
OneWalmart – Onewire Walmart.
The WalmartOne name and website is migrating to OneWalmart (Onewire Walmart) in an effort to combine the Walmartone (Home) and Walmart Wire (In-store) portals.
The new website can be found at One.Walmart.com, though, for a time, you can still log in via the old Walmartone login page. To open the OneWalmart (Onewire) login page, click on the Walmart Spark logo, as illustrated below.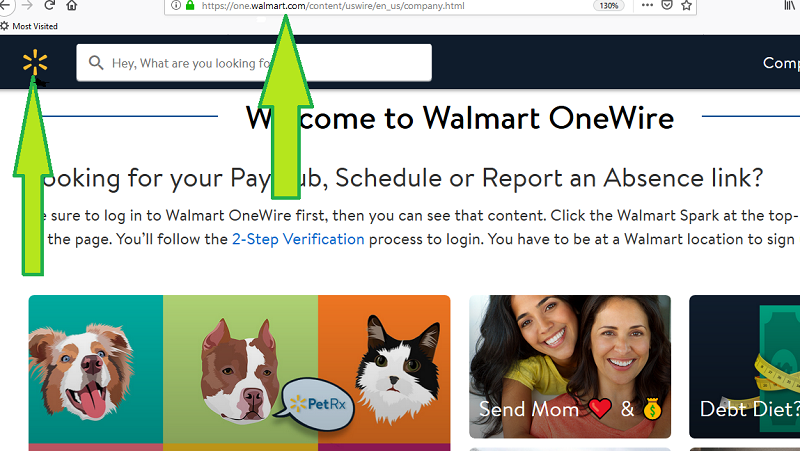 One Walmart Login – Onewire Walmart Login.
On the new Walmart associate website, Onewire Walmart, the login process is slightly different.
How do I log in to my Onewire Walmart account at One.Walmart.com?
First, go to https://one.walmart.com. You must leave out the "www" part of the url.
Click on the yellow "Spark" logo in the top left corner.
On the Onewire login page, enter your Walmart User ID and Password.
Choose Country and Store Location.
Click on "Sign In".
As part of the 2-Step Verification process, a code will be sent to your mobile phone. Enter the code.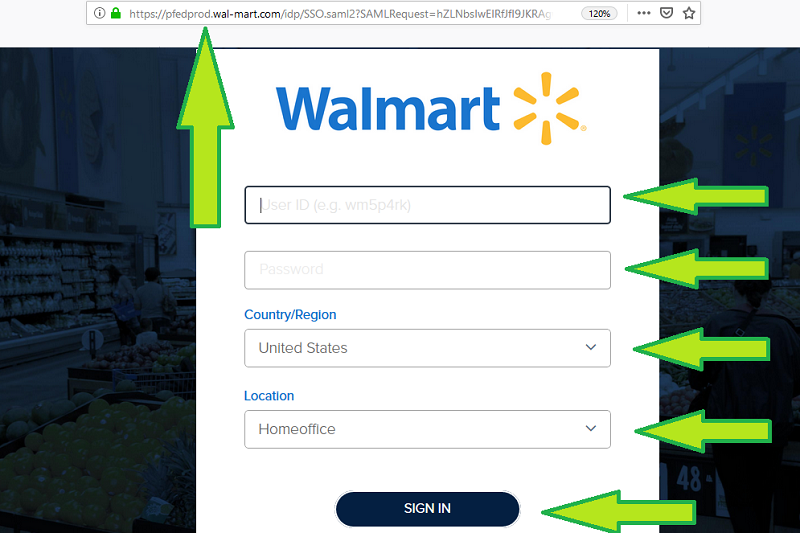 The direct link to the Walmart Onewire login page is here.
How do I get 2-Step-Verification for access to Walmart Onewire at home?
To use the new Onewire Walmart website, the portal found at at One.Walmart.com, you must sign up for 2-Step-Verification first. This must be done at an Walmart Store location first.
You cannot access at Walmart Onewire from home until you have enrolled for 2-Step Verification.
To set up 2-Factor-Verification from a Walmart Store, go to a Walmart Wire computer and type in: wmlink/2sv in the Wire address bar.
A code will be texted to your mobile phone number on file. You can also use an app that shows you the code. Enter the code in the system to enroll for 2-Factor-Verification.
To change your mobile phone number on file, search for "personal information verification" on the Walmart Wire in your store to update your contact cell number.
How Do I Register For a WalmartOne Account?
To register for a WalmartOne account, you will need to be a current employee, and you will need to know your Walmart Identification Number, or WIN for short. This number is given to new employees soon after joining. If you are unsure of what your WIN is, or if you have lost it, you should be able to get it from your HR department.
Assuming you know your Walmart Identification Number, go to the main homepage at www.WalmartOne.com and click on the 'Sign In' link, which is situated in the top right of the screen. Wait for the page to load and then click on the 'Register' link, which is found directly beneath the main 'Login' form.
On the next page, you will be greeted with the main account registration form, where you will need to enter some personal information, including your WIN, your date of birth, details about your employment with Walmart and an email address. Enter this information accurately and continue through to the next stage of the process.
Eventually, you will be required to create a username and password. These will then be used to log in to your account in future. Follow the on-screen instructions to ensure your choices are valid and then click 'Submit'.
To register for the new Onewire Walmart website at One.Walmart.com, you will need to sign up for 2-Step-Verification at an in-store Walmart location first, however.
Walmartone Login.
How do I log in to my WalmartOne Account?
Once you have successfully created your WalmartOne account, you can log in by visiting the main homepage at www.WalmartOne.com. Click on the 'Sign In' button in the top right and you will be taken to the original WalmartOne login page. From there, simply enter the username and password you chose during the sign up process, and click 'Login'.
The direct Wlamartone login page is here.
Assuming you entered your login credentials properly, you should then be taken to your main account page. This login process can be carried out using a PC, tablet, or mobile web browser. All major web browsers should be compatible, including Google Chrome, Microsoft Internet Explorer, Microsoft Edge, and Mozilla Firefox.
Mobile users also have the option of logging in via the WalmartOne app, which is officially called WM1. This is a fully licensed app, which can be downloaded from the App Store for iOS users, or from the Google Play Store on Android. Simply search for 'WM1' and you should be able to find it easily enough.
After downloading the app, start it up and you will be met with a login form. This functions in exactly the same way as the website login form, so simply enter your username and password, then click 'Login'.
Common Walmart Onewire and WalmartOne Login Problems.
Users may occasionally encounter problems when trying to log in to their WalmartOne (Onewire) accounts. However, fortunately, there is usually a simple solution to any issues, allowing you to regain access.
First of all, if you are used to logging in to Walmartone at https://www.Walmartone.com, then be advised that the login page has moved to https://one.walmart.com. On the https://one.walmart.com page, click on the yellow Walmart Logo to load the Onewire login page. Note: https://www.one.walmart.com will NOT work. You will need to enter https://one.walmart.com or just one.walmart.com in your browsers URL address bar.
Another common problem is a forgotten password, and this can be resolved by going to the main login form on either the website or WM1 app and clicking on 'Forgot Password?'. On the next page, you will need to enter your username and a verification code. An email will then be sent to the email address you registered with, containing a password reset link. Click this link and follow the instructions to reset your password.
Similarly, some users forget their username and this can also be easily recovered. Again, you should go to the main login page, but this time click on 'Forgot User ID?'. You will need to supply the email address you signed up with, along with a verification code. Upon doing so, your username will be sent out to you in an email.
If you know your username and password, but are unable to sign in, there are a few things to check. Firstly, you should make sure your internet connection is definitely working by trying to load any other website. Next, you should make sure you are using an up-to-date web browser, or the most recent version of the WM1 app.
When entering your password, it is important to be aware of the fact that it is case sensitive, meaning you need to use upper and lower case letters in the right places. For this reason, you should make sure CAPS LOCK is off. It can also be easy to make typing errors within passwords, so try deleting what you have entered and trying again.
Should you continue to experience issues, you might want to try signing in using a different web browser, or a different device entirely. You could also try clearing your web browser's cache and cookies. Moreover, ad-blocking software can occasionally interfere with login forms, so you might want to temporarily disable yours.
How to Access Your Walmart Schedule on Onewire.
While the WalmartOne (Onewire) associate portal has a number of different uses, one of the most common reasons for employees to sign in is to check their work schedule. It is important to stay up-to-date with your schedule, so you know which shifts you are working, and so you can organise the rest of your week.
To access the Walmart schedule page, sign in to your Onewire/WalmartOne account in the usual way and then click on the 'Schedule' option. Here, you will be presented with your current schedule, along with options to organise the schedule by day, week or month. You can also use this section to make schedule change requests.
Access the WalmartOne (Onewire) Paystub Page.
Similarly, many Walmart employees use the WalmartOne associate portal to keep track of their pay stubs, or to view past pay stubs. This can be important, because employees need to know how much money they are taking home and why, while they also need to be aware if there are any problems with their pay, so they can alert management.
To access the pay stub page within the portal, you should log in to Walmartone or Onewire as normal, and then go to the 'Pay Stub' section. From there, you will find options that allow you to view pay stubs and download them to your computer or mobile device. The platform also offers an email function, meaning your future pay stubs will be emailed to you directly.
WalmartOne HR Contacts.
Finally, for Walmart employees, it may be necessary to get in touch with support teams, and there are a variety of different options available here. It is important to take the time to learn which support team to contact for each situation, and to consider the method that is most appropriate.
If you are experiencing problems with the WalmartOne service itself – including technical, sign up, or login problems – you can call the support team on the following telephone number: (800) 421-1362. Alternatively, if you would prefer to communicate in writing, you can do so by sending an email to: [email protected].
Meanwhile, if you are sick, or unable to attend work for any reason, you should instead use the Walmart associate hotline. The numbers to call for this are either 1-800-775-5944, or 1-844-292-4796. In addition to using this to report an absence, the Walmart associate hotline can also be used to inform the company if you are going to be late.
About Walmart.
Walmart, Inc. is the largest supermarket chain in the world, in terms of revenue. It is also the largest private employer of any kind, globally, with a total of more than two million employees, or 'associates'. The company's headquarters is located in Bentonville, Arkansas, USA, but Walmart has stores in 27 different countries.